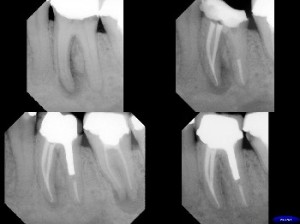 The extent of decay in this lower left molar makes this one of the more extreme cases dealt with here. The patient was in pain and had swelling and an extraction was a distinct possibility. Our policy is always to save teeth if we possibly can and that is what we set out to do for this patient. Follow the pictures left to right and you can chart the progress.
In the first picture, you can see the pale (radiolucent) areas around the bottom of the root and this shows that there is infection in the bone (apical periodontitis).  The old filling and all the decay were removed and the tooth was root treated in a single visit.
The tooth was rebuilt with a post and core followed by a crown by the referring dentist. The final picture shows the tooth at the 2 year review. The infection had healed. The tooth is maintained and the patient was very happy!